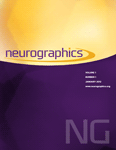 The Pediatric Cerebellum: A Pictorial Review of Normal Anatomy Using MRI and Diffusion Tensor Imaging
Human cerebellar neural pathways have been successfully mapped in vivo by using diffusion imaging. Diffusion imaging is a powerful tool for evaluating neural pathways in the brain; and with its potential use for evaluating pediatric cerebellar pathologies, it is important to have a good understanding of cerebellar neural pathways. Therefore, we review herein the microstructure, embryologic development, gross anatomy, white matter tracts, and neural pathways of the developing pediatric cerebellum.
Learning Objectives: Gain a fundamental knowledge of cerebellar anatomy and describe functional cerebellar pathways to facilitate the interpretation of diffusion tensor imaging studies performed in children with cerebellar abnormalities.
Document Type: Research Article
Publication date: December 1, 2014
Access Key
Free content
Partial Free content
New content
Open access content
Partial Open access content
Subscribed content
Partial Subscribed content
Free trial content