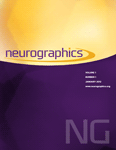 Hypertrophic Olivary Degeneration: Review of Anatomy, Pathology, and Imaging
Hypertrophic olivary degeneration is a unique type of transneural degeneration caused by a variety of primary lesions in the dento-rubro-olivary pathway or Guillain-Mollaret triangle. Inferior olivary nucleus hypertrophy may lead to misdiagnosis of hypertrophic olivary degeneration as a medullary mass lesion. Hypertrophic olivary degeneration could be ipsilateral, contralateral, or bilateral on the basis of the location of the primary lesion and usually presents at 6 months or later from the detection of the primary lesion. Understanding the anatomy of the Guillain-Mollaret triangle and its clinical and radiologic implications is very important for diagnosing hypertrophic olivary degeneration and differentiating it from other intrinsic medullary lesions. Correct diagnosis is crucial to avoid unnecessary investigations and clinical concern.
Learning Objective: To identify the pathways of the anatomic Guillain-Mollaret triangle and discuss the pathologic and MR imaging findings of hypertrophic olivary degeneration.
Access Key
Free content
Partial Free content
New content
Open access content
Partial Open access content
Subscribed content
Partial Subscribed content
Free trial content